Fabrication and manufacturing of quality solar screens and doors in the Las Vegas - Henderson area
FREE on site estimate 702-252-8558
January 16, 2018
All about solar screens

Everything you wanted to know about sun shade screens.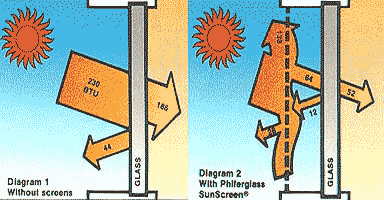 Solar screens as simple as it may sound are a heavy mesh fabric that simply restricts the sun rays from hitting the window. The density of the mesh determines the amount of sun blocking, it will have a similar effect as a sun tan lotion on the skin with the various ratings.
Solar screens also provides a thermal barrier and medium insulation since the gap between the screen and the window is similar to double pane glass where the gap between the panes and the air provides the insulation.
Different grades of material also support thermal barrier depending on their quality and effectiveness. For example fabric mesh with a density of 90% sun block will have a better insulation then 80% sun block, however, blocking more of the sun means less light comes through.
80% sun block


90% sun block
The quality of thermal insulation is also determined by the construction of the screen and its mounting. A good quality construction means that the window will be covered completely, including the window glass and its frame.
Most window frames are made out of aluminum and metal by nature transfers heat easily.
There are many benefits having solar screens window covering, to name a few:

Save up to 45% on your energy bill (30% average saving).

Prevent color fade of your furniture and carpet.

Add privacy to your home.

Raises property value.

Blocks up to 90% of the heat and glare.

Cut utility bills instantly.

Cut down harmful UV sun rays.

Blocks the sun but not the view.

Pet resistant.

Stops insects.

Reduces dust buildup.

Helps the environment.

Extends air condition life.

Recommended by Nevada Power, Department of Energy, City Housing Authority, Police, and Fire Department.

Made of long-lasting vinyl coated fiberglass fabric made by Phifer Suntex.
Solar screens are like a sun shade hat covering the house. If you feel cooler under your hat then so does your house. The difference is approximately 15 degrees cooler.

Solar screens gain popularity as temperatures rise
It's the classic Catch-22. Turn the air-conditioner off during the summer, and fry on the heat. Leave the air-conditioning on, and pay a fortune in utility bills.
But last summer Tracy resident Sue Cortesi found a solution - a batch of polyester window screens coated in polyurethane. The screens not only block up to 90 percent of the heat produced by the sun; they come with a state-granted energy rebate. And they are becoming increasingly popular in Tracy neighborhoods.
"With the Tracy heat, let me tell you, it's worth it," Cortesi said. She said she watched her monthly energy bills drop from $200 to $80. These days, she can't imagine life without the coverings.
Such solar window screens have existed for decades, but their popularity has surged recently. Dealers attribute the newfound popularity to better quality and California Energy Commission deals.
Steve D. a local sunscreen manufacturer, said he has seen the increase first-hand.
As he used Cortesi's window to show how the screens attach and detach with outside clips, he pointed to all the other windows in the neighborhood that use the screens. Word-of-mouth keeps his business alive, he said.
"Referrals are my bread and butter."
Under the state rebate program introduced through legislation last spring. Solar window screens must block 70 percent or more of the sun's heat to qualify. They can be placed only on the south, east, and west sides of the house, where windows collect the most heat.
For the program so far, the state has approved selected products made by two Alabama companies: Phifer Wire Products and the Twitchell Corp.
Participants get a rebate of $1 per square foot, a deal which in some case spays for itself in a year when utility costs are included, said program manager Spencer Mills.
The program had some 5,100 participant last year, totaling sales of 600,000 square feet of solar screen. Mills estimate the program saved the state some 2,000 kilowatts during peak load times. He expects to hand out an additional 19,000 rebates this summer.
Program participants include office building owners, schools, apartment complexes, and lots of single-family homeowners. "The Tracy area has been booming," Mills said. "I'm anticipating good numbers in spring."
Ken Goff, owner of a screen company in Tracy, said solar window screens have been popular in the Central Valley for years, but many of Tracy's Bay Area transplants are not as familiar with them.
Once they see them in action in Tracy, though, they're sold, Goff said.
"It's instant gratification. Their effects and benefits are immediately noticeable."
The Phifer Suntex screens, which appear to be the most popular among Tracy dealers, come in black, brown, gray, and stucco colors. The stucco screens contain a combination of cream and salmon colored strands.
The polyester screens are hard to destroy, and Dillman describes them as both pet proof- and kid-proof. He said he generally charges $5 per square foot, unless they are placed on the second story windows, where they are a bit more costly.
Phifer's screens have become particularly popular in the Southwest, where the sun is hot and the utility costs are high, said Mona Plyer, the company's advertising and sales promotions manager.
The reason the screens work so well is they sit on the outside of the window, they can keep the glass cool, she said.
"They kill that heat."
She said the company experienced a lot of growth last year because of the rebate program.
Tracy resident Doug Ramirez said he bought the screens just before the rebate program. But even without the added incentive, the coverings have been worthwhile.
"It really blocks out the heat." he said. "It's like a night-and-day (difference)."
Paul Jaeger, owner of a new Tracy screen company, said he had never heard of the solar window coverings before he got into the business.
Now he can't imagine his business without the solar screens.
"Essentially," he said, "that's where the money is."
The screens are touted to reduce heat by up to 15 degrees.
By Jonathan Partridge - The Tracy Press
Q: Why solar screens over film or tinting?
A: Tinting film is mounted on the internal side of the glass and provide approximately 98% UV rays protection, but it will not reduce the heat transferred through where solar screens are mounted externally and cover not only the glass but also the window frame.
Q: Are solar screens removable?
A: Depends on the construction, it should be mounted with removable clips that can easily rotate and the screen can be taken off. There are few extreme cases where the screen is at hard to reach areas due to obstructions such as steep roof or awkward architectural design or even height.
Q: How long do they last?
A: The aluminum frame lasts approximately 100 years, and the fabric which is vinyl coated fiberglass lasts for about 30 years. It is likely that excessive sun damage especially in the Las Vegas valley will be noticeable earlier then 30 years depends on the location of the screen and how much it is exposed to the sun rays.
Q: How can I tell if I save money?
A: Usually both electric and gas bill comes with a chart printed on it with a span of a year period which allows you to trace back your spending habits 12 months earlier. You will need to consider also inflation and rising energy costs. If your use habits haven't changed and there are no mechanical problems with your A/C unit then it would be a fair comparison to previous months.
Q: If I move, can I take the screens with me?
A: Solar screen fabrication is custom built to each specific window. Fitting screens from one window to another is not impossible but very unlikely to fit. Aesthetic maybe compromised if doing so.
Q: Will it provide privacy from neighbors?
A: Solar screen will provide privacy during the day time. At night once the light source is from the inside, it is most likely that some privacy could be compromised.
Web site production and design by Feather Network